Why you should only use your catheter once
Did you know? Canadian urologists and nurses recommend single-use of intermittent catheters.1,2
To help reduce the risk of UTIs, Canadian healthcare practitioners recommend using a new, sterile, pre-lubricated catheter every time you catheterize.1,2 International and Canadian clinical evidence suggest that hydrophilic catheters can help reduce the risk of UTIs and urethral damage.3,4,5,6
Reusing catheters may lead to a change of physical properties of the catheter material and there is a risk of introducing unnecessary bacteria contamination, which may result in urinary tract infections (UTIs).3,4
Use a sterile catheter every time you catheterize.
Canadian urologists and nurses recommend using single-use hydrophilic catheters, especially for those with repeated symptomatic UTIs.1,2 A coated catheter (hydrophilic-coated or prelubricated) can help lessen friction as you insert and remove your catheter. It makes catheterization more comfortable and convenient. Studies, data, and findings also link them to lower rates of infection3,4 and less urethral damage3,5,6 compared with other catheters.
SpeediCath®: Catheters designed for your needs
All SpeediCath® catheters are pre-lubricated with a unique hydrophilic coating; making them instantly ready to use. They feature Triple Action Coating Technology™, designed to stay hydrated so insertion and withdrawal are smooth and gentle.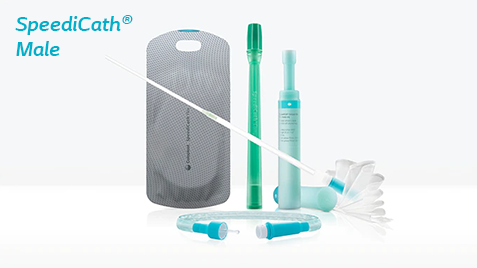 If you are interested to learn more, get in touch with Coloplast's Care Advisors at 1-866-293-6349 or email them at casupport@coloplast.com.
1. Clean Intermittent Urethral Catheterization in Adults – Canadian Best Practice Recommendations for Nurses. Developed by Nurses Specialized in Wound, ostomy and Continence Canada, Canadian Nurse Continence Advisors, Urology Nurses of Canada, and Infection Prevention and Control.1st Ed. 2020.
2. Can Urol Assoc J 2020;14(7):E281-9. http://dx.doi.org/10.5489/cuaj.6697
3. Cardenas et al. 2011,
4. De Ridder et al. 2005,
5. Stensballe et al.2005,
6. Sutherland et al. 1996