The Power of Peers
I broke my neck by diving into and firmly planting my head on the bottom of a pool in 1991, which, the kind doctor at the emergency room explained to me the next day, resulted in a compression fracture of my fifth cervical vertebra. But the broken vertebra wasn't the bad part – bones heal, after all. The real concern was for the damage to my spinal cord, a complete lesion, allowing motor and sensory function above the mid-chest, with only crude use of my arms and no control over my hands and fingers. At 18 years of age, I had no real experience with loss and no skills for dealing with the journey that lay ahead. Fortunately, I was not alone in my recovery, and my uninformed beliefs about living with a disability would eventually be transformed in a way that I could never have anticipated in those early days.

I spent six months in hospital learning to manage the physical and practical aspects of my spinal cord injury, and while I was pleased with my progress and excited to finally be returning home with my family, internally I was vibrating with fear and feeling ill-prepared for life outside the hospital. What if something went wrong? How would I spend my days? Would I ever have a girlfriend again? Would I ever be able to live independently? But there was no avoiding discharge, and I returned home in late November that year, the beginning of what I recall being an especially cold and nasty Manitoba winter.

To be sure, my stay in hospital was miserable, but whenever I reflect back on that period in my life, I feel quite lucky because of two critical things that happened during that time, even though I failed to fully appreciate their impact until many years later.

First, I had the good fortune of becoming a member of an exclusive club of people who sustained traumatic spinal cord injuries in the summer of 1991. We were all around the same age and developed a strong bond because of our shared experience. Although it was a very difficult period for each of us, we knew we could talk about things amongst ourselves that would have been near impossible to discuss with people outside of the club. The feeling of acceptance within our group was invaluable, especially because we all felt so different from our former selves, and at the same time, different from everyone around us. The ability to try and fail, without ridicule or judgement, was motivating and enormously liberating.

That is not meant to diminish the support I received from my family and friends, which I can say without hesitation was second to none. Nor is it meant to demean the efforts of the physicians, nurses, unit assistants, physical and occupational therapists, whose daily support and encouragement were invaluable. The club provided a kind of support that was simply not available elsewhere. Sadly, some members of that club have since passed away, but the bonds established that summer have never faded.

The second critical thing to happen while I was in hospital was meeting Arnie Schryvers, who at that time was the hospital-based rehabilitation counsellor from CPA Manitoba (recently renamed Spinal Cord Injury Manitoba, or SCI Manitoba). Arnie's role as a member of the interdisciplinary rehab team was to provide supportive counselling, link people with the necessary resources,

and start planning for discharge. But Arnie's impact extended well beyond what his job title and role would have suggested. He was the first person I met following my injury who was actually living with a spinal cord injury. Watching Arnie operate a computer keyboard and mouse, transfer into and drive his vehicle, and move around in his wheelchair allowed me to start thinking about what my life could be like. Arnie was married and working fulltime, and watching someone with a similar level of injury doing the things I worried I would never be able to do was enormously inspiring, and it started a slow process of challenging my beliefs about living with a disability. Arnie was one of the most impactful figures in my rehab and recovery because, through him, I began to see that it was possible to lead a fulfilling and meaningful life after SCI.

One of the critical resources arranged by Arnie before my discharge was meeting with his colleagues at CPA, community counsellors Greg Winmill and Mark Wherrett, and vocational counsellor Darlene Cooper. Greg and Mark, both wheelchair users, assisted with the transition from hospital to the community, and helped me sort out a number of issues that arose in the early years. They were key in getting me driving again, and connecting me with wheelchair sports, where I met so many other truly remarkable people. I was involved with wheelchair rugby for many years, both as a player and coach, and I found the experience of travelling with other quads to tournaments in Canada and the US to be incredibly enlightening and rewarding.

At the same time, Darlene encouraged me to start thinking more seriously about my future, and after an initial assessment and a few meetings with her, together with funding secured through VRDP (the provincial vocational rehabilitation program, today known as MarketAbilities), I was soon testing the waters with a couple of first-year Arts courses at the University of Manitoba. I was initially doubtful about my ability to get around the large Fort Garry campus, especially during the winter months, but Darlene was an excellent 'cheerleader' along the way and helped me figure out solutions to all the roadblocks. In the spring of 1997, I graduated with a Bachelor of Recreation Studies (BRS) degree from the UofM, and I have been happily employed ever since.

After leaving the UofM, I spent two years managing the Parking Permit Program at the Society for Manitobans with Disabilities (SMD), then spent one year working for Travel Manitoba at the Forks. In the summer of 2000, I joined CPA and worked in several different positions, including 3 years as the hospital-based counsellor and 3 years as the vocational counsellor. I left CPA in early 2008 to take a position with the province's Claimant Adviser Office (CAO), where for ten years I conducted medicolegal investigations and represented dissatisfied MPI claimants against their insurer at hearings before an administrative tribunal. And while I feel fortunate to have had such rewarding experiences over the course of my career, the success I have enjoyed has not been achieved alone. My wife, Liz Watson, has been at my side for nearly twenty years.

I met Liz while working at the Forks in 1999, and we have been together ever since. We married in 2006 and will celebrate our 12th wedding anniversary in September. She is an amazing partner and immensely talented photographer and graphic designer. We have had many adventures together, the most recent of which has been unfolding over the last year. As she has dual citizenship, Liz and I had talked often about moving to the US to escape the Manitoba winters, and last year she applied for and was offered a position in the marketing and communications office of a prestigious charter school on the Big Island of Hawaii. It seemed an outrageous idea at first, but the more we talked about the pros and cons, the more we realized we would be fools to pass up this opportunity. So we decided to make the move – she resigned from her job in Winnipeg and moved to Hawaii last October, and I left my position at the CAO earlier this year to join her in Hawaii. It has been a challenging year, being apart for nearly 6 months, but we are together again, with our 2 dogs Lincoln and Isla.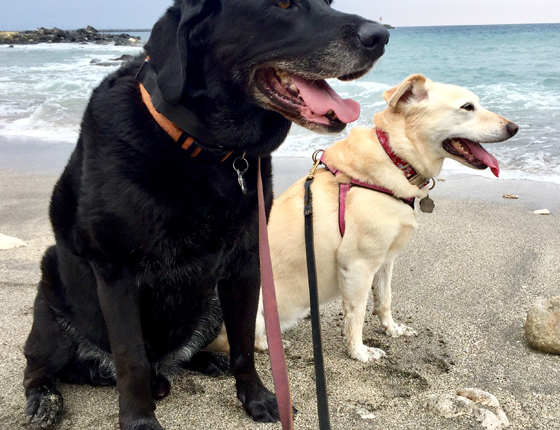 Despite the earthquakes and volcanic eruptions at Kilauea earlier this year, and the recent flooding from Hurricane Lane, things are going well. Liz is enjoying and excelling at her new job, and we both are looking forward to a snow-free winter. Since I have to go through the sponsorship process, I have not been able to work yet in the US, but I hope to start working again towards the end of the year once I receive my authorization card. In the meantime, I have been trying to expand my skills by learning about web development and computer programming/coding. I have already completed several courses in JavaScript, as well as HTML and CSS, and plan on continuing along this path. Not sure where it will lead but these skills are in high demand so it can only help me find employment when the time comes.

Today, more than 27 years after sustaining my injury, I am especially grateful for all the help and support I received over the years from the people at CPA. In my view, their guidance and assistance are as essential and relevant today as they were during my own recovery and rehabilitation many years ago.

Dan Joanisse