Rob's Archery Journey
By Robert Cox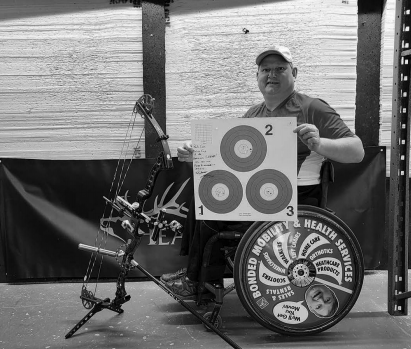 I went to Heartland Archery one day in October 2002, just
to see what it was like. I started shooting after they gave
me some guidance on how to hold the bow and the way that
the arrows were positioned. At first it was hard for me to
even hit the target as I was not sure of the distance. They
started me off at a 10 metre distance and I then worked my
way back to 20 yards or 18 metre distance for indoor shoots.
While I was shooting, a man by the name of Roger Garrard
was watching me and said that I was picking it up really
fast. I told him that the only shooting that I ever did was
with the camps I went to as a child. Roger then said that
with some coaching, I would be able to get better at it. He
said "it was like taking clay and molding it to make something better". Roger saw that I wasn't holding the bow in the
correct manner so he stayed and helped me with that and
also helped show me what I needed to do with my arms
while shooting. After he showed me, I continued shooting
and I liked it enough to go back to Heartland a number of
times afterwards.
I went to my first tournament in January of 2003. I didn't
do well but I liked competing and found that it was something that I could do from a wheelchair. I did not know at
the time that I was the first wheelchair archer shooting at
these events. It was a challenge for me to be able to shoot,
know where I had to shoot, and who would be able to help
me along the way. The more I got into it, the more I really
liked it and I started getting good scores. It wasn't the same
as some of the other archers but I thought I was doing well.
In March of 2003 was the first time that I shot at a provincial indoor tournament. There were archers from all over
the province at this event. I was very nervous and did not
want them to think that I was an inexperienced archer. It
turned out that I did better than I thought I would. I just remembered what Roger was telling me and I had a good tournament. I did well in the round of shooting and I also did
well in Match Play.
I was unable to participate in shooting for a while as I
had operations in 2004 and 2005. I was not able to come
back to shooting until the winter of 2007. It was then that I
was told as a joke "You have not shot until you shoot outdoors".
I took that as a challenge and started shooting outside
which was not easy. I went from shooting one distance indoors to shooting four different distances outdoors in any
given day. I had to learn on the fly and this did not come
easily for me. I was able to get to the point that I was selected for the Provincial Team for the outdoor season for the
first time. I was not sure how to take this because I wanted
to be able to make Manitoba proud for choosing me. I went
to outdoor Nationals with Team Manitoba. It was the first
time of many that my adopted family, the Hebert's, and their
store, Bonded Health and Mobility Services, got me my first
of two Bowtech Bows for the Nationals. Although I didn't
feel worthy of it, I was asked by the team to be the flag bearer for the opening ceremonies. We started shooting for the
total commutative scores; this is the first time I had competed against other wheelchair archers face to face.
We shot for a week. On Saturday of that week in July
2007, they were naming off the archers who would be going
to the different World Archery Events in other countries.
They started with the Recurve Team, then they named the
Compound Team, and after that they started naming the
team that would go to Korea for the Para World Games.
They named the other archers who were there for Team
Canada, then they announced "our newest member from
Winnipeg, Manitoba—Robbie Cox". I didn't know at first
that it was me they announced! One of the archers from my
team said it was me and that I needed to go the middle of the
field where the other Para Archers were so that all could see
who was going. The only thing I could really do was cry! I
was so shocked that I was selected for the World Team after
my first year of shooting outdoors. On the last day of shooting I was able to take the Gold Medal for Manitoba.
Then it was off to Korea for my first ever out-of-country
event for any sport that I've participated in. I made it to the
quarter finals in the individual event and did well in the
Team Event. The only match that Canada lost was against
Host Country Korea in the Semi-Finals. We were able to
win Bronze for Canada at the very first team event that Canada ever participated in at the Worlds. Kevin Evens, Bob
Hudson and I made a good team that year.
In the winter of 2008 I was getting ready for the Paralympics that would be held in China for the summer games. I
worked hard all winter and won Gold in the Indoor Nationals that year which helped set me up for the outdoor season.
The Hebert Family played a big role in getting me to the
Paralympics Trials in Toronto. There were four archers vying for two spots to go to China in August and the two ended up being Kevin Evens and me. I was the Alternate but for
me being part of the Paralympics program in my second
year was such an honour, The next few years I was able to
set four Canadian Records. Two of the records were set in
2009—one was the 25 metre 566 out of 600 records and the
other was the Indoor Canadian Record of 584 out of 600. In
2010 I was able to set two more records—the Canadian
Open Record of 587 out of 600 (all of these shoots were
with the 10 ring being no bigger than a dime) and the other
record was a Team Event Record that I was in with two other Archers from Manitoba—Keenan Brown and Austin Taylor. The three of us shot 234 out of 240 and it was the MICA
Event. I was the only wheelchair shooter in this event. It was
an honour that they asked me to shoot with them. I was able
to continue for the next few years, shooting both indoors and
outdoors and was able to go to three more World Events.
In 2012 just before the Paralympics, I was in the Czech
Republic where I was shooting at the Czech Cup. It was a
good event and I was able to come away with the Gold Medal. This was a good set-up for what I was really focused
on—the 2012 Paralympics in London, England. I was up
against other great archers for a spot for the Paralympics program. Again it came
down to Kevin Evens and me to be a part of the Paralympics Program for Team Canada. I was the Alternate
again, but Kevin is a great shooter and it was an honour to back him up.
In 2013 I thought my Archery was coming to an end. I started
to get sick and I had to deal with a lot of medical problems. Surgery
after surgery was needed to fix the problems that were plaguing me and my health.
I was not able to do the thing that I loved.
Pulling back a bow would have caused a lot of damage to my abdomen and my
body needed time to heal from the surgeries.
In October 2019 the doctors said that I could go back to
archery. I am not sure if it was all of the time off, but I came
back with a fieriness for shooting like I never had before.
After shooting for a few months, I decided to go the 2020
Vegas shoot with some of the archers from my club here in
Selkirk, Manitoba. We train out of the Harvester Outfitters
who turned part of their building into an indoor range for us.
I had gone to the Vegas shoot in the past, but this year I
wanted to see if I was really ready to come back to the level
that I was once at.
I was there for five days and I shot very well—my score
was 885 out of a total of 900. I came back just before
COVID-19 hit and this put a damper on how I was feeling
about not being able to shoot. But we found different ways
to practice and we were able to do more shoots as the restriction levels of COVID-19 made it easier. I was able to
get the indoor Provincials and indoor Nationals done. I won
Gold in both. Then we were able to shoot the outdoor Provincials and I was able to win Gold in that event as well. I
was also able to set a new Canadian Match Play Open Record—147 out 150. This helped me get ready for my first
ever World Archery Indoor Cup of the Americas. I made it
to the semi-finals where I shot against a great archer from
Ecuador. Then I was against a great archer from Mexico.
The Gold Medal match was a very hard fought match. It
could have gone either way. I was up by one point but then
he came back and tied it. It went that way for two ends of
play. The way it was going I was thinking it was going to
come down to a one arrow shoot off with the closest arrow
to the centre of the target. I knew that he was shooting well.
I got lucky with a shot in the 4th end where my arrow just got the
10 ring and that put me up by one point, but again he tied it in
the 2nd end. I was sure that he was going to do it again in the 5th
end too. Then it came down to the last arrow. I knew that anything
could go wrong just like in the other semifinal match where the
archer from Brazil was on his last arrow and
up by two points but somehow hit his release and the arrow
went wide of the target. I was down to my last shot and I was
thinking of what had happened to the archer
from Brazil. I was hoping not to make the same mistake. They told me that it
was my turn to shoot. I took my time. The target I was
shooting at was a lucky spot as it was giving me the 10's
that I needed. I was focused and then I took the shot. It was
the longest few seconds that I think I ever went through!
They came back and said it was dead centre 10. All I could
do was cry. I am so happy that I was able to bring a Gold
Medal back for Canada.
I am hoping that I am able to keep going this year and that
we will be ready for the Tokyo Games this summer. I have
been the back-up twice now and I hope that I get to be the
archer that shoots on the line for Canada. I am happy that I
am back doing a sport that I love. I am very thankful for my
family and friends and the Archery community as a whole
for being there for me as I take this journey to wherever it
leads me.