Proud History of Spinal Cord Injury Manitoba
When paralyzed Canadian soldiers returned home from WWII, rehabilitation hospitals did not exist and wheelchairs were difficult to find. So the founders of the Canadian Paraplegic Association got to work.
In 2021, as Spinal Cord Injury Manitoba celebrates 75 years of providing essential, life-changing services and supports to people living with spinal cord injury (SCI) in Manitoba, it's important to remember when, how, and why it all started. Let's be honest, our world has not progressed with the speed many of us would have liked in terms of accessibility and inclusion, but we should not lose sight of all the progress we have made over the years.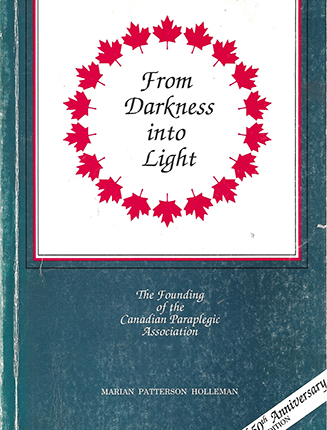 First, to avoid unnecessary confusion, let's begin by clarifying that the Canadian Paraplegic Association (CPA) was incorporated in 1945 by a group of paralyzed WWII veterans at Lyndhurst Lodge in Toronto. It was not until the following year, in 1946, that a similar group of paralyzed veterans at Deer Lodge Hospital in Winnipeg formed the Central Western Division of CPA. Subsequently, we became the Canadian Paraplegic Association – Manitoba Division, then the Canadian Paraplegic Association (Manitoba) Inc. when we incorporated provincially in 1990, and finally, Spinal Cord Injury Manitoba in 2019. Our current name was adopted to more accurately reflect the members we serve – the term 'paraplegic' only applies to roughly half our members, so the decision was made to begin using the more inclusive descriptor 'spinal cord injury'.
Although our organization started serving people living with SCI in Manitoba in 1946, our story really begins in 1935, when German physician Gerhard Domagk discovered the first sulfa drugs (sulfonamides) to successfully treat bacterial infections. Sulfa drugs were so successful at treating urinary tract infections that they're still widely used today. But at the time of WWI, prior to their availability, soldiers paralyzed on the battlefield had a very short life expectancy, with only 10% surviving longer than one year. It wasn't until the introduction of sulfa drugs and antibiotics prior to WWII that made it possible for people living with SCI to survive long enough for new questions to be raised about their needs in the long term.
Armed with sulfa drugs and antibiotics, the doctors responsible for treating soldiers who sustained spinal cord injuries during WWII were seeing, for the first time, the challenge that lay ahead: what to do with so many young, paralyzed veterans who would survive for many years, but would not be content spending the rest of their lives in a hospital?
The answer, which seems evident to all today but was clear to only a small number of veterans and physicians in the 1940s, was to press for the development of specialized spinal cord injury rehabilitation programs where paralyzed soldiers, and later civilians, could learn to manage their own needs and return to a full, meaningful, and independent life in the community.
And so began a prolonged period of fervent and unrelenting advocacy by the founders of the Canadian Paraplegic Association, whose early efforts resulted in the establishment of the Department of Veterans Affairs in 1944 and the creation of the first spinal cord injury rehabilitation program in Canada, Lyndhurst Lodge in Toronto, in 1945. The pioneers in those early years were Lieutenant John Counsell, who sustained a spinal cord injury at Dieppe in 1942, Dr. Harry Botterell, an emerging expert in the care and treatment of paralysis and a Major with the Canadian Army Medical Corps who helped other doctors from the Montreal Neurological Institute establish the Canadian Neurological Hospital during the war, L. M. ('Lew") Wood, an eminent philanthropist who helped establish rehabilitation programs and promote the important work being done by many service organizations, and Dr. Albin Jousse, the first Medical Director of Lyndhurst Lodge. John Counsell was the driving force among the group of paralyzed veterans at Lyndhurst Lodge, but he was not alone – others involved in founding the Canadian Paraplegic Association were Arthur Hay, Joseph Wrangham, Jack Higman, Douglas Quirt, Edward Higginbottom, and Andrew Clarke, and incorporation was received on May 10, 1945.
In Manitoba, our story is rooted in the group of 37 paralyzed veterans at Deer Lodge Hospital, known then as the 'Winnipeg Para Club', who formed a loose association under the leadership of Sergeant Eric Lyle, himself wounded in action in 1944. Determined to leave the hospital and get on with his life, Eric Lyle wrote to Ian McKenzie, Minister of the newly established Department of Veterans Affairs, demanding a set of braces and crutches. The Club, encouraged by their leader and the example of fellow veterans at Lyndhurst Lodge, set out to recruit prominent civilians in Winnipeg to help advance their cause, and by August 1946, the first formal board meeting of CPA's Central Western Division was held with George W. Hutchins of Richardsons and Co. being elected as Chair, and Tony Mann as Secretary-Treasurer.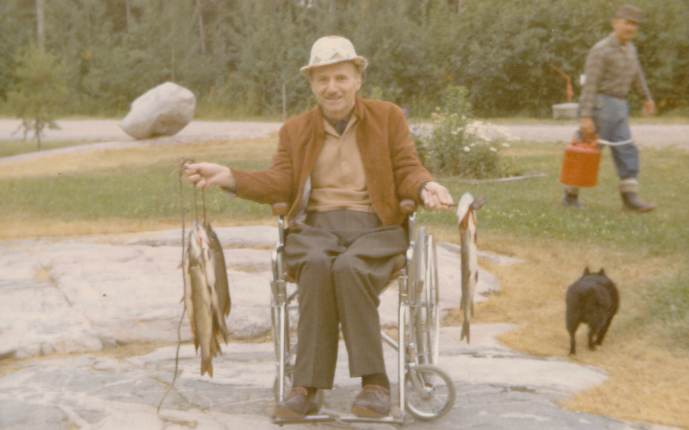 One of the early challenges facing CPA in those early post-WWII years was the waning number of paralyzed veterans needing medical care and rehabilitation at the recently established military hospitals across Canada. A good thing, to be sure, but what would become of the innovative programs and highly trained staff at these facilities, experts in the emerging field of rehabilitation? Without the vast financial resources of the federal government and a steady flow of paralyzed veterans to care for, the existence of Deer Lodge Hospital and Lyndhurst Lodge seemed doomed. But CPA stepped in to push for extending the services at Canada's military hospitals to civilians who sustained spinal cord injuries, a group that was significantly larger than paralyzed war veterans by a factor of ten. But paying for the incredibly expensive care and treatment of civilians at military hospitals was another matter entirely, given Veterans Affairs' mandate applied uniquely to veterans. An innovative solution was needed and again, CPA went to work. With the impressive results of their work with paralyzed veterans now evident, many of whom were living independently, getting around easily in mass-produced Everest & Jennings collapsible wheelchairs, driving their own vehicles, and even working and paying taxes, it was not overly difficult to persuade the workers compensation boards to pay for the excellent care and treatment of injured workers at military hospitals. Subsequently, CPA turned its attention to reaching an agreement with Veterans Affairs, effectively assuming responsibility for reimbursing the Department for all expenses associated with the care and treatment of civilians, and this opened the door to negotiations with provincial governments to underwrite these expenses by presenting the case in economic terms. After all, Canadian taxpayers had been relieved of their financial obligation to paralyzed veterans who went on to care for their own needs and support themselves and their families through gainful employment. Surely provincial governments could be convinced to pick up the expenses for civilians, and in time, they did just that.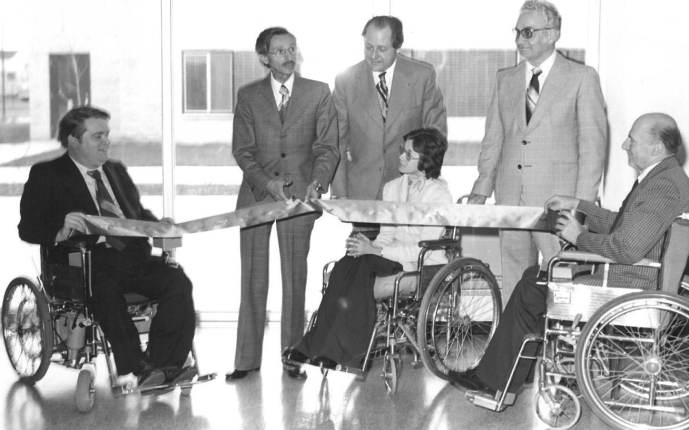 There were, of course, many other issues that demanded the attention of a young but powerfully resourced organization in the succeeding decades, with many successes to celebrate in Manitoba, including but by no means limited to:
establishing a specialized spinal cord injury rehabilitation program at the Manitoba Rehabilitation Hospital (now HSC Rehabilitation Hospital)
establishing a position for a rehabilitation counsellor to be part of the interdisciplinary team on the SCI Unit
helping to advocate for a publicly funded home care program, and later a self and family managed care option
becoming recognized by the provincial government as an agency with expertise in providing vocational rehabilitation services to Manitobans living with SCI
helped establish the rehab engineering department at Health Sciences Centre
receiving dedicated funding to provide culturally appropriate services to members from Indigenous communities
creation of Ten Ten Sinclair Housing to help teach important self-management skills for independent living
establishing an outpatient clinic to provide follow-up services to Manitobans living with SCI in the community
establishing long term Fokus Housing units for members needing higher levels of home care support, managed entirely by service recipients
creating a parallel transit system for wheelchair users (Handi-Transit, now Transit Plus)
founding the Manitoba Paraplegia Foundation
establishing the Spinal Cord Research Centre at the University of Manitoba
designed and deployed an electronic case management system for member services
organizing the 1967 Pan-Am Paraplegic Games in Winnipeg
creating the Monday Night Wheelchair Sports and Recreation Club and later the Manitoba Wheelchair Sport and Recreation Association
helping to establish the Canadian Wheelchair Sports Association (now Wheelchair Rugby Canada)
supporting the development and spread of 'murder ball' in 1977, known today as wheelchair rugby, a sport played around the world at the highest levels of competition
advocating for changes to the Building Code Standards for Manitoba and Canada
founding the Canadian Institute for Barrier-Free Design and later the Universal Design Institute at the University of Manitoba
creating ParaTracks, a regular newsletter to keep members informed of important news and events, and sharing compelling stories from the membership
supporting human rights challenges and advocating for changes to Manitoba's elections and voting systems
helped create the Manitoba Accessibility Office and the Accessibility for Manitobans Act
helping to establish Manitoba's Wheelchair Services Program and Parking Permit Program, and
helping form 'Manitoba Farmers with Disabilities' to facilitate the exchange of farming-specific information and resources between farmers with disabilities.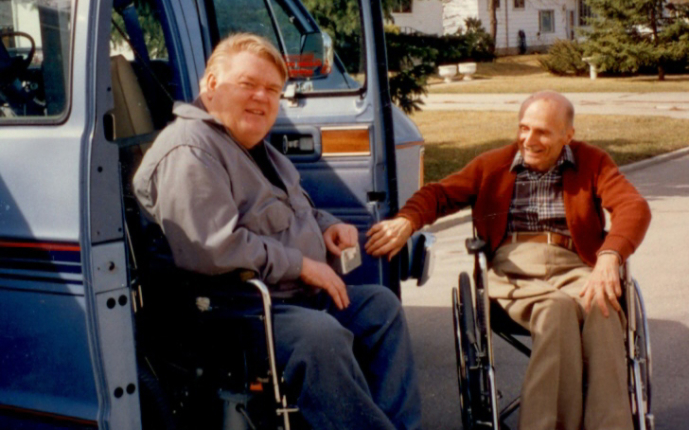 Tony Mann would go on to serve the organization in exemplary fashion for the next 30 years, and during that time he successfully recruited important allies to help carry on the work before his retirement in 1976, including his successor, John Lane, who in the same tradition as Tony Mann, John Counsell, and other leaders, capably advanced the cause and improved the welfare of people living with spinal cord injury for many years.